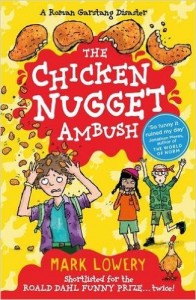 Well how do you all do?
I'm very well indeed, although the writing shed is a bit warm today – my brain feels like it's been slowly baked this afternoon.
Lots of cool things have happened recently. Firstly, my new book – The Chicken Nugget Ambush – is now available to pre-order from all your usual favourite bookshops. It's the second instalment of the Roman Garstang Disasters and it comes out on the 2nd June. Poor old Roman has been put on a chicken nugget diet, just before his Year 6 residential trip. Unfortunately, the nuggets are waiting for their chance to attack him like the little ninjas in breadcrumbs they are.
Don't see this as a book. See it as a survival guide.
The third book in the series – Attack of the Woolly Jumper – is bubbling along nicely and should be out sometime early next year.
Meanwhile, my lovely agent Gillie and her colleagues at Aitken Alexander have been agreeing publishing deals left, right and centre for Leaping Dolphin – a separate stand-alone novel about two boys who take a train journey to Cornwall. It's a bit of a change of pace and style for me but the response over the last few months has been really pleasing. So far it's going to be translated into Italian, French, Dutch, Spanish and German, with hopefully more to follow. I was also delighted and thrilled to find a home for it in the UK with my fabulous publishers Piccadilly Press. Fingers crossed, it should come out next year. Watch this space…
Anyway. Enjoy the sunshine!
Mark